KAREN PIERCE
Interim Executive Director
Karen Pierce, a native San Franciscan, is one of the founders of Bayview Hunters Point Community Advocates and a legendary Bayview activist for five decades. She recently retired from the San Francisco Department of Public Health, where she worked in the Population Health Division, and previously in the department's environmental justice program. She has chaired San Francisco committees and task forces overseeing closures of two power plants, and Port operations on the southern waterfront. She also worked with faculty at the University of California–San Francisco for over a decade to transform the university from a citadel to a neighbor.
TONY KELLY
Development Director
Born at St. Luke's Hospital in the Mission, Tony Kelly has been working with San Francisco nonprofit organizations and neighborhood groups since 1990. He is a veteran project creator and manager, with extensive experience as a manager and director in the arts, public policy, community organizing, and client-side construction management. Prior to working at the Advocates, he volunteered on numerous public-service initiatives in Southeast San Francisco, serving on advisory committees and task forces for the City's Mayor, the Port, and the Board of Supervisors. For his leadership in the arts community and in the communities of Potrero Hill and District 10, he was named a Local Hero by the San Francisco Bay Guardian in 2006.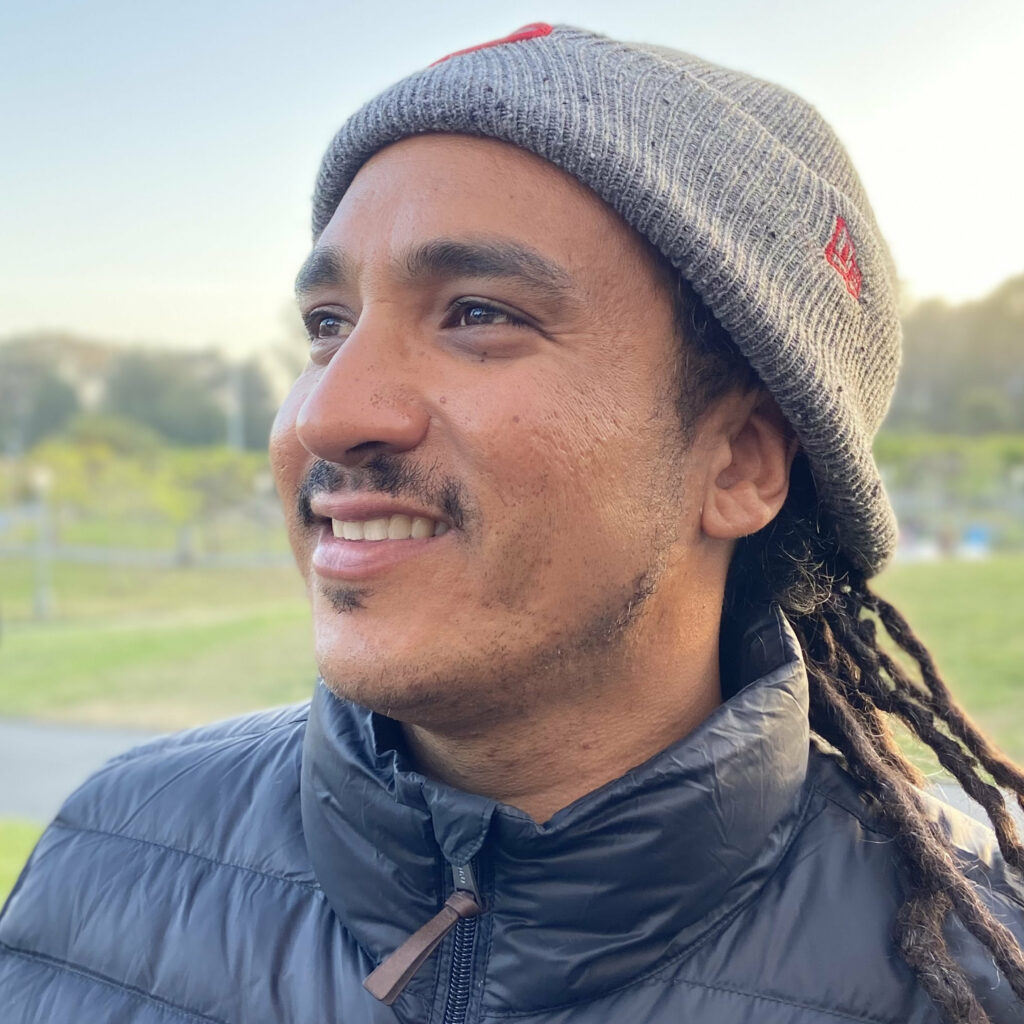 ANTHONY KHALIL
Food Sovereignty Director
Spouse, Father, Mentor, Ecologist, Outdoorsman, Culture Bearer, and Environmental Justice Activist, Anthony Khalil earned his Bachelor's degree in Environmental Studies with a concentration in Environmental Sustainability and Social Justice from San Francisco State University. A son of first-generation immigrants, born and raised in the Santa Cruz Mountains and San Francisco, he has extensive experience working with and mentoring youth and communities of color to foster deeper connections with and commitment to our collective natural heritage. For two decades, he conducted environmental education and habitat restoration programs at Literacy for Environmental Justice and other local organizations, supporting community and youth stewardship of natural areas in Southeast San Francisco. Khalil currently serves as an inaugural Environmental Justice Advisor to the Bay Conservation and Development Commission. In 2019, he received the Local Hero Environmental Education Award from Bay Nature magazine. In 2020, through the Advocates, he launched Bayview Bounty Boxes, a free produce distribution program which is the first phase of the establishment of a Bayview Community Grocery Co-op which aims to connect BIPOC farmers directly with community organizations and residents to expand neighborhood food access and develop food sovereignty in Bayview Hunters Point.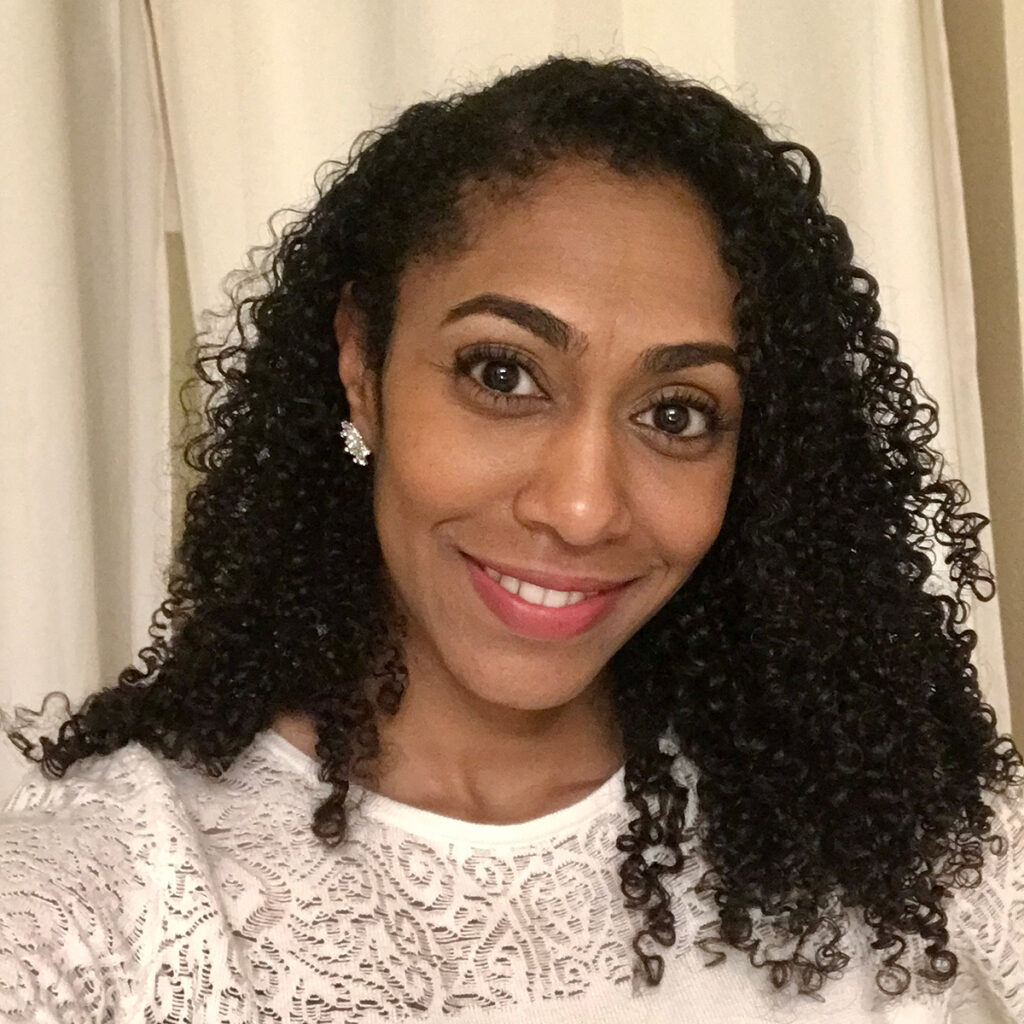 J. SELENA SONI WOOD
Programs Manager
J. Selena Soni Wood is originally from Los Angeles, California and has been a San Francisco and bay area resident for over a decade. She was raised by immigrant parents whose struggles and achievements impressed upon her a deep-rooted desire to uplift communities of color. She earned her Bachelor's degree in Biological Sciences from the University of Southern California and has continued to pursue her passion for community health and wellness. Her professional path has been oriented towards outreach and the empowerment of historically disenfranchised people. She has worked with youth in the Inner City Education Foundation (ICEF) to provide academic support for at-risk middle schoolers and as a Research and Development Coordinator, in children's nutrition, supporting the development of healthy and accessible subsidized meals. Her commitment to community health and advocacy led her to the clinical setting where she built electronic medical records systems for health clinics to increase efficiency and access to data for culturally appropriate patient care. She also was a Data Analyst and Research Associate for Highland Hospital. She coordinated the Adult Medicine Department's multi-lingual Patient Advisory Council (PAC) and facilitated the completion of a Patient Centered Outcomes Research Institute (PCORI) funded Comparative Effectiveness Research (CER) project. Selena is married with 3 children and likes to spend her free time enjoying music, the outdoors, and celebrating life!
DALILA ADOFO
Environmental Justice Director
Dalila Adofo grew up in East Palo Alto, California and started organizing at the age of 12 when she joined Youth United for Community Action. Dalila was active in the environmental justice campaign that closed Romic (a hazardous waste recycling plant), advocated for the proper cleanup of the land Romic resided on and aided in developing the community plan for future use of that site. She has worked with the California Fund for Youth Organizing (CFYO) and worked with communities and state legislators to pass the California Student and Youth Bill of Rights. She attended and graduated from San Francisco State University with a major in Chemistry and a minor in Geography (Environmental Studies). She spent 3 years as the lead coordinator of the Marie Harrison Bayview Air Monitoring Project where 8 particulate matter monitors were installed, and she ran annual youth academies where she educated youth on environmental and social justice. Currently, she is Resource Coordinator at Bayview Hunters Point Community Advocates working on various community led projects ranging from cooperative education to improving food security to improving transportation within Bayview Hunters Point. She loves meeting people and working with community as well as challenging the systems that are currently in place to serve people better especially people of color. Music and dancing are like therapy, and she loves lifting weights, playing soccer, watching anime, being a plant mama and spending time with family and friends.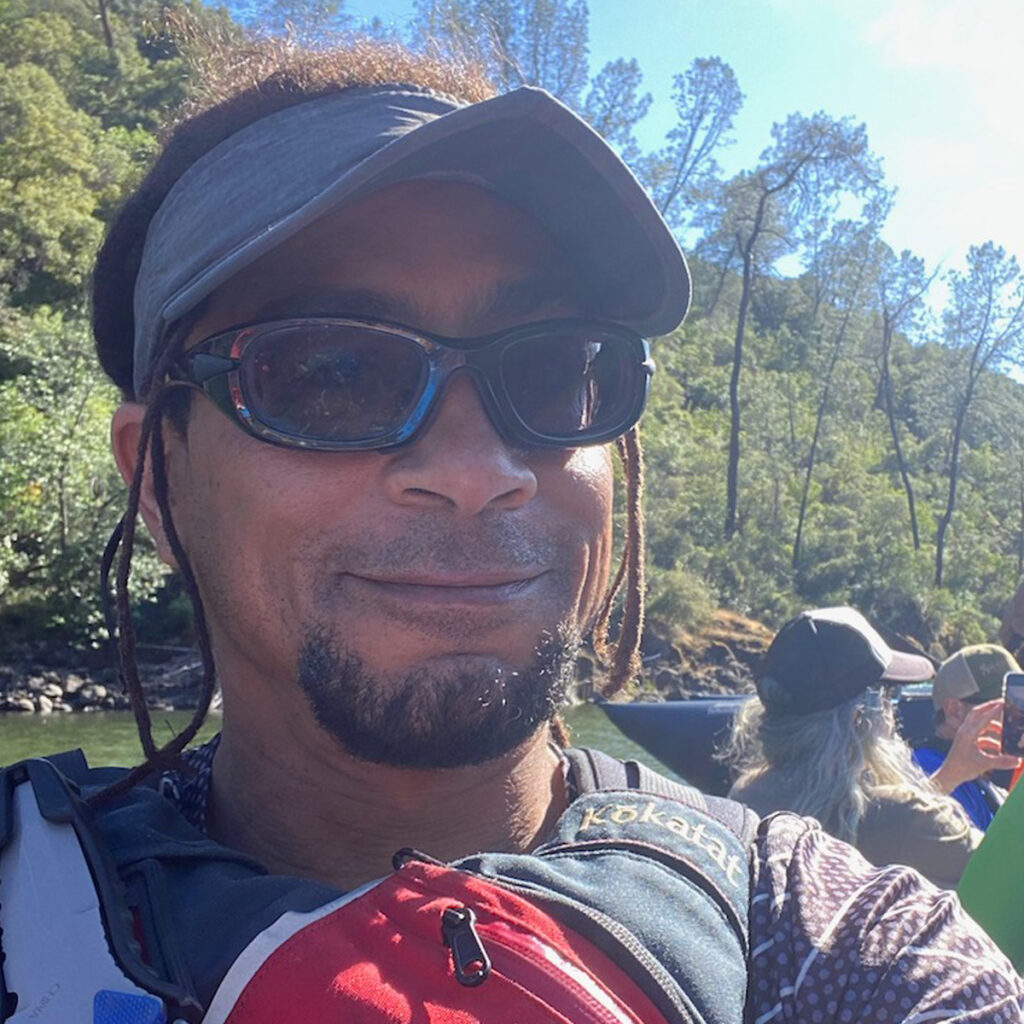 DAVIDO CROW
Food Pharmacy Coordinator
Over many decades, Davido Crow worked from being a volunteer all the way up to Program Director in the nonprofit Outdoor Recreation field at Environmental Traveling Companions serving participants in Accessible Outdoor Recreation Programs. You may know him from the investment of his experience in the outdoors growing his leadership and community building skills, managing groups of volunteer leaders and staff working with diverse groups of all ability levels pursuing the success and growth that can be gained from taking on challenges in the outdoors. He can also be credited with contributions to San Francisco Recreation and Parks serving Youth and Families in The City and helped create the The Eco-Adventure Program. Davido holds a Bachelor's degree in Social Psychology with a focus on Leadership and Diversity from UC Santa Cruz. He enjoyed growing up in San Francisco in the Bayview district and going to school throughout San Francisco in the SF Public School System. He carries 20 years of studying and practicing the Art of Peace known as Aikido both in the dojo and in his leadership style. He enjoys his love of comic books and Science Fiction and studying the World and our Abilities through imagination. Davido is very happy to continue his work in Bayview building the health of the community through a connection to the strength and health benefits of the earth.
JOHNTA DURDEN
Healthy Retail Coordinator
Johnta "Tay" Durden is a 3rd generation San Franciscan. His grandmother grew up on Potrero Hill, and he was raised in Bayview Hunters Point. He went to McAteer high school, and still has lots of family in the neighborhood. His deep connections to the community are part of why he joined Bayview Hunters Point Community Advocates in March 2022 to work as a Food Sovereignty Associate.Now, he's a Food Sovereignty Coordinator; as part of his role, he delivers boxes of fresh, healthy food the Advocates have sourced from local farms and businesses. Seeing how we support family farms and more natural food is something he enjoys a lot about his job. He enjoys working in the community he grew up in and taking an active role in creating a healthier, more sustainable food system. He loves putting smiles on people's faces and seeing how genuinely grateful they are for the food. In his spare time, he loves traveling outside with his family (especially to waterparks), meditating by the Bay, and cheering on the SF Giants, 49ers, and Warriors.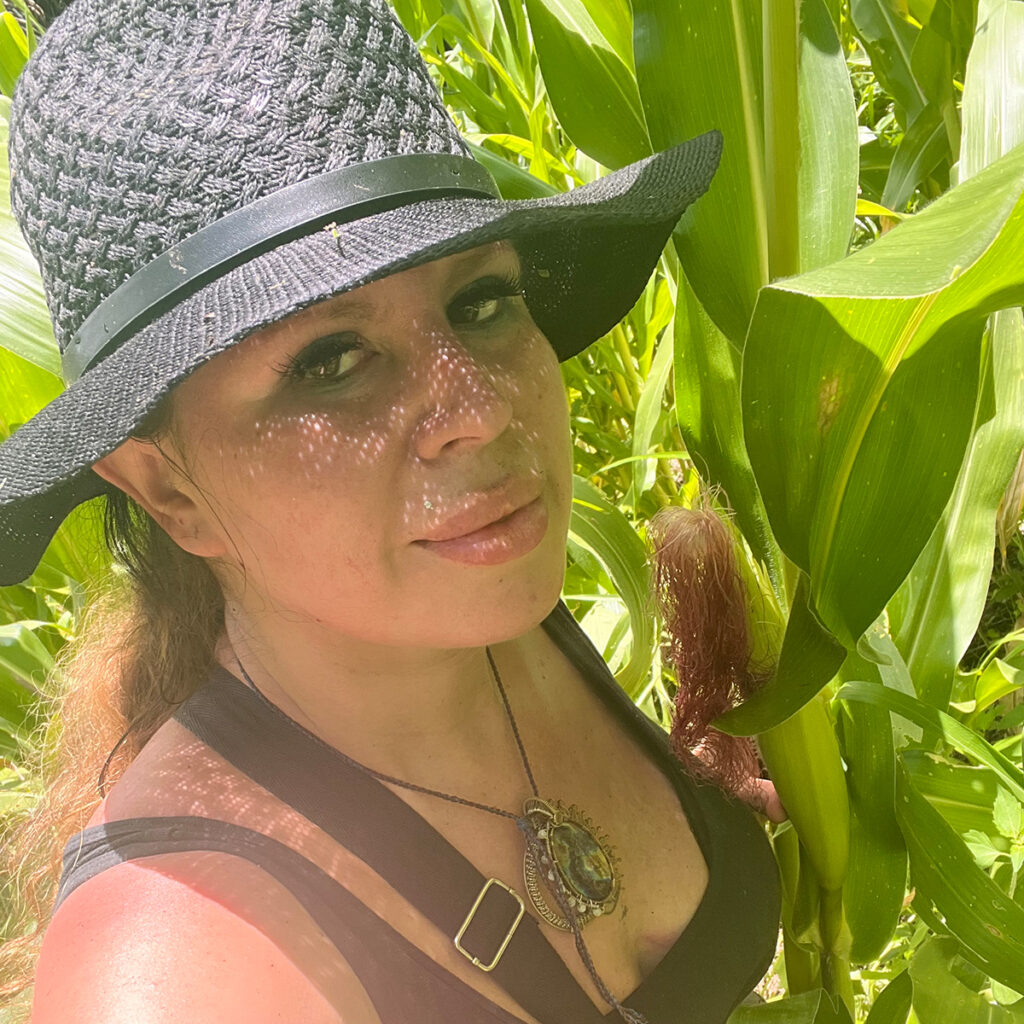 RUTH MORALES
Food Sovereignty Operations Associate
Ruth Morales has always had a strong bond with the land. Her unique background as a Salvadorian Indigenous woman who was also raised with a family from South Dakota means that she has a cross-cultural perspective that she incorporates into her work. She knows first-hand how important reclaiming traditional food is for people to be healthy in both body and spirit, and loves helping people get the peace of mind and dignity that comes with food sovereignty. She still works two weekends a month on her farm in El Salvador with her family, doing everything from managing the land, clearing weeds, pruning trees, watering plants, and harvesting the land. Ruth enjoys waking up at 5:30 am and heading to the Mercado (farmers market) where she sells her mangos, oranges and lemons. She also donates some of her harvest to the local church. One of her biggest joys is harvesting her cacao beans, roasting them and bringing it back home for hot chocolate! Ruth joined Bayview Hunters Point Community Advocates as a volunteer during the pandemic in 2020. In May 2022 she was hired by the Advocates as a Market Associate. As part of her role, she loads, unloads, delivers, and prepares food bags/boxes for our Street Advocates,Food Pharmacy, and Free Market programs. She loves being connected to people, and also translates for our Spanish-speaking community members and records information for potential new clients. The Advocates Food Sovereignty program allows her to continue supporting small farmers while building community in the neighborhood. She understands how a healthy diet is key to a healthy body, mind and spirit. Ruth has seen some of the direct ways nutrition impacts health through her work as a Periodontal surgical oral assistant which she has done for the last 20 years. She's a mother of three children (one in high school, one in a vet tech program and one at Columbia University) and loves spending time with her family when she's not working. She loves camping and hiking and attending sporting events.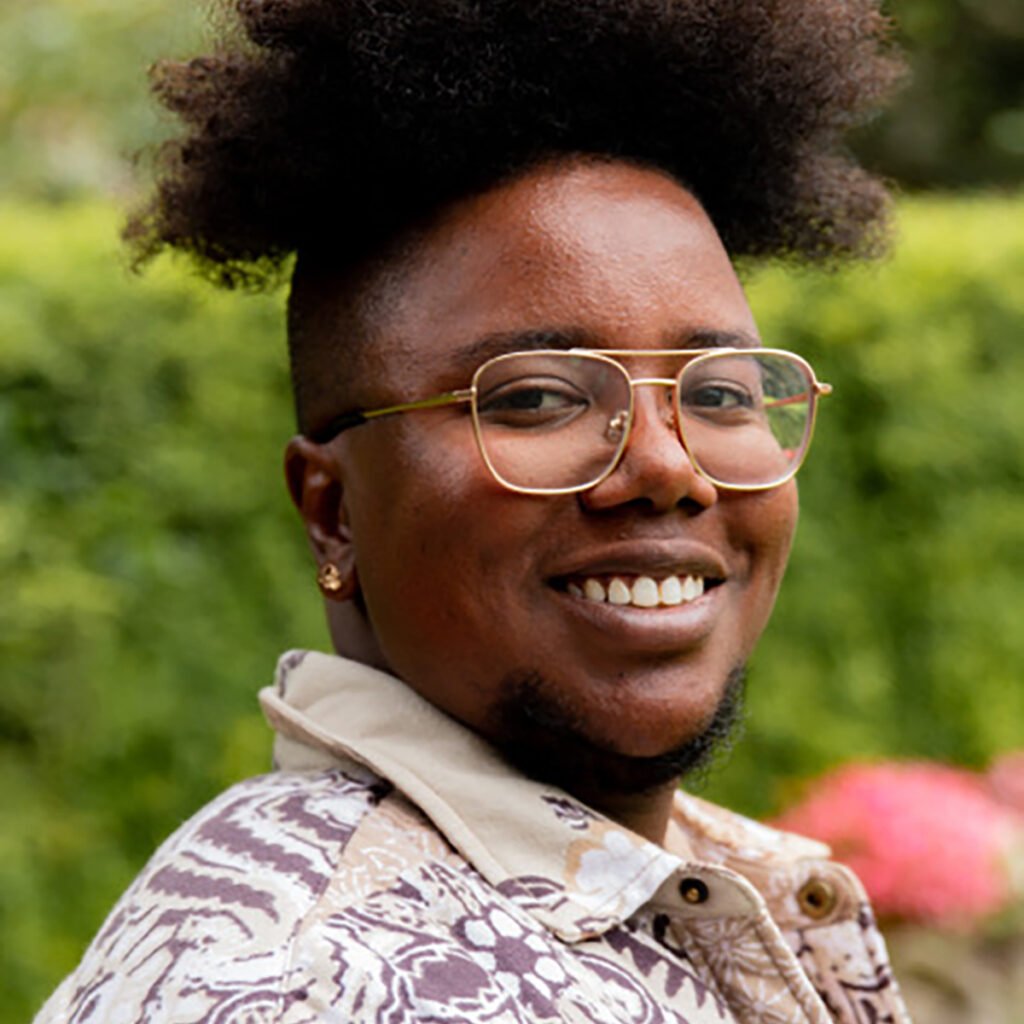 CHRIS WAKEFIELD
Co-op Lab Associate
Born and raised "from Oakland to Sac-town, the Bay Area and back down," Chris got an early education in taking care of both oneself and community from his single mom, older siblings, and extended family of artists, educators and entrepreneurs (shout-out to Oakland's late great Dorsey's Locker!) When he's not leading up Sales and Marketing efforts at Bayview Co-op, Chris is usually trying to finish a sci-fi/fantasy book, chasing the sun, or making herbal CBD products for his brand Brown Sugar Botanicals. Chris holds a BA in Political Science from Yale University and an MBA from Mills College. He strongly believes in the self-determination, knowledge, and cooperative power of indigenous people around the world to shape a sustainable future for all.
TANDIA O'NEAL
Climate Equity Hub Associate
For Tandia O'Neal, environmental activism runs through her blood. She grew up by Palou/Phelps Mini Park and is in fact one of the founding members of Friends of Palou/Phelps Park. Her parents both came from the South and met in the Fillmore. They moved into the house she was raised in the early 60's. Her father worked for the Hunters Point Naval Shipyard, but was unfortunately one of many workers to die of asbestos, a direct result of the nature of his work. Her mother responded by being part of a class-action lawsuit; her years of persistence resulted in a victory. Tandia carries on the legacy of Bayview Hunters Point activism. After completing a bachelor's in Sociology from Fisk University, she joined Delta Sigma Theta Sorority Inc. while pursuing a MBA from Holy Names University. She remained with Delta Sigma Theta Sorority Inc, after graduation and in the 15 years that she's been a member she has worked on impactful projects. She started with the Advocates as a volunteer in 2020. She is now the Community Engagement Associate for the Food Empowerment Market and the Chair of the Southeast Community Council. Her roles involve planning for the Market through connecting with other community-based organizations and amplifying and channeling community advocacy through the Council. When she's not giving her all at the Advocates, she's probably working on her other major passion, music as the CEO of Sistah Music Snax Entertainment or spending time with her kids.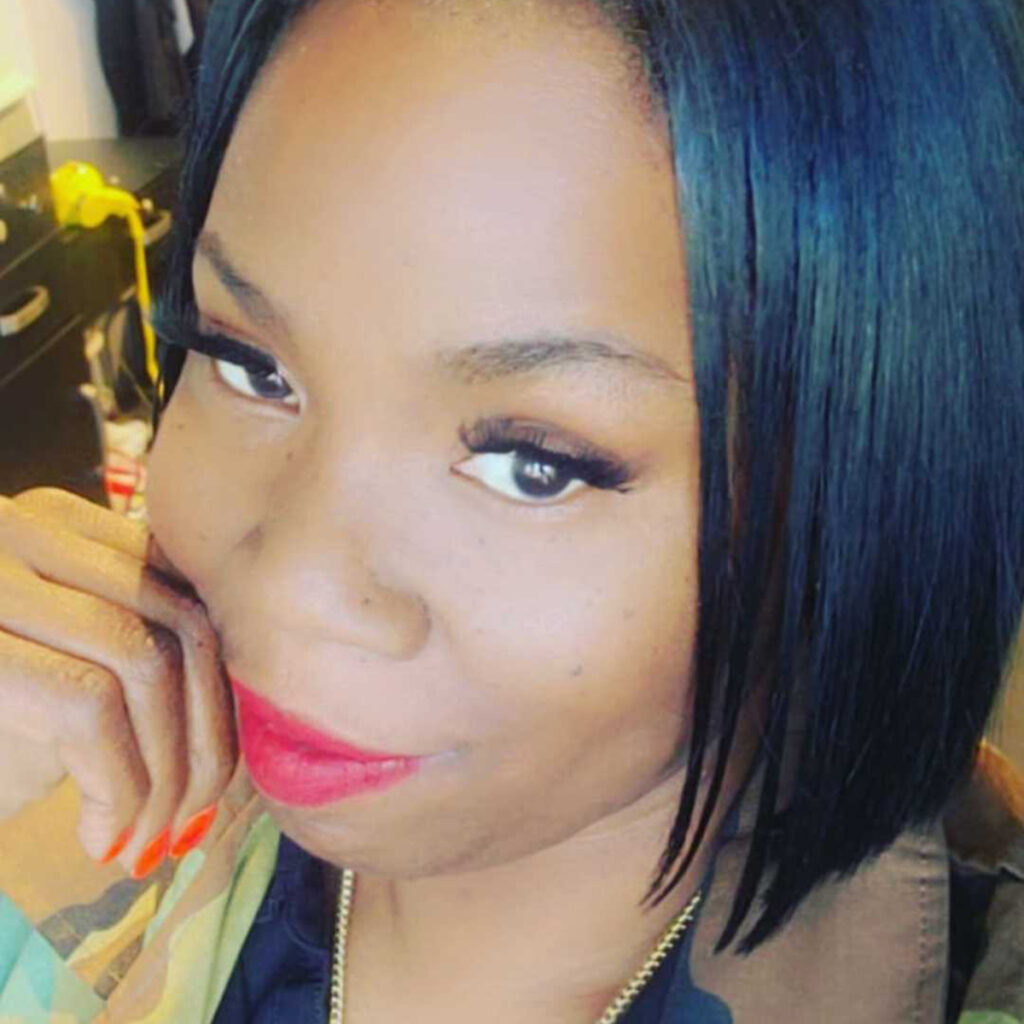 LATRESHA TANNER
Outreach Associate
LaTresha Tanner is a third generation San Franciscan. She grew up in Alice Griffith (now called Double Rock) and has been a hair stylist in the community for 30 years. Since she was a kid, she's always been very active in the community and knows practically everybody in Bayview-Hunters Point. Her lifelong passion for helping people was sharpened by her work at Oaks Children Center as a bus driver and substitute teacher for children with mental disabilities. She got her start at Bayview Hunters Point Community Advocates after she was referred by another co-worker, and was interested in cleaning up the environment she and all her loved ones live in. That made her a perfect fit for the Toxic Index program, a community-led mapping project documenting hazardous sites within BVHP. As an Outreach Associate, her job means she's on the ground every day, serving the community, especially our unhoused neighbors. She sees people who are hungry every day and seeing them happy after delivering them food is her favorite part of her work in the Street Advocates program. When she's not working at the Advocates, she's probably styling hair or spending time with her family.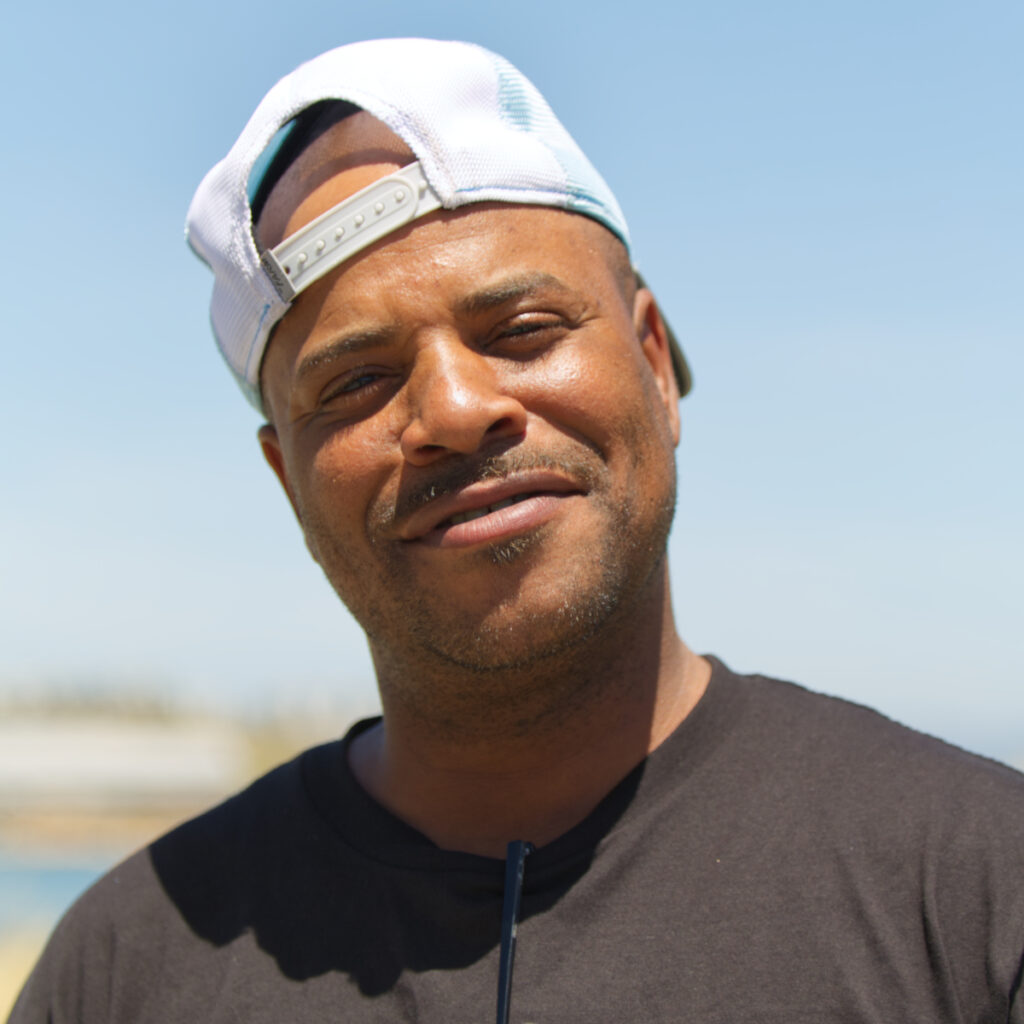 SEAN ALSTON (PAPA DUCK)
Outreach Coordinator
Born and raised in the Potrero Hill district of San Francisco, Sean has mentored kids for over 30 years at the Potrero Hill Recreation Center and the Youth Guidance Center. Having been mentored by elders himself and having grown up among community activists, he believes in giving back to the community and uplifting youth and peers so they can do great things in the world. His education in the streets and his direct experiences with incarceration motivate him to speak about racism, justice and peaceful approaches to violence prevention. Before joining the Advocates, he worked in construction for more than 20 years as a member of Laborers Local 261. Currently, as an Outreach Coordinator, he leads the Street Advocates team, which works directly with unhoused folks to provide food and connect them with resources for housing and medical care. He is still very much involved in community mentorship with kids to keep them on the straight.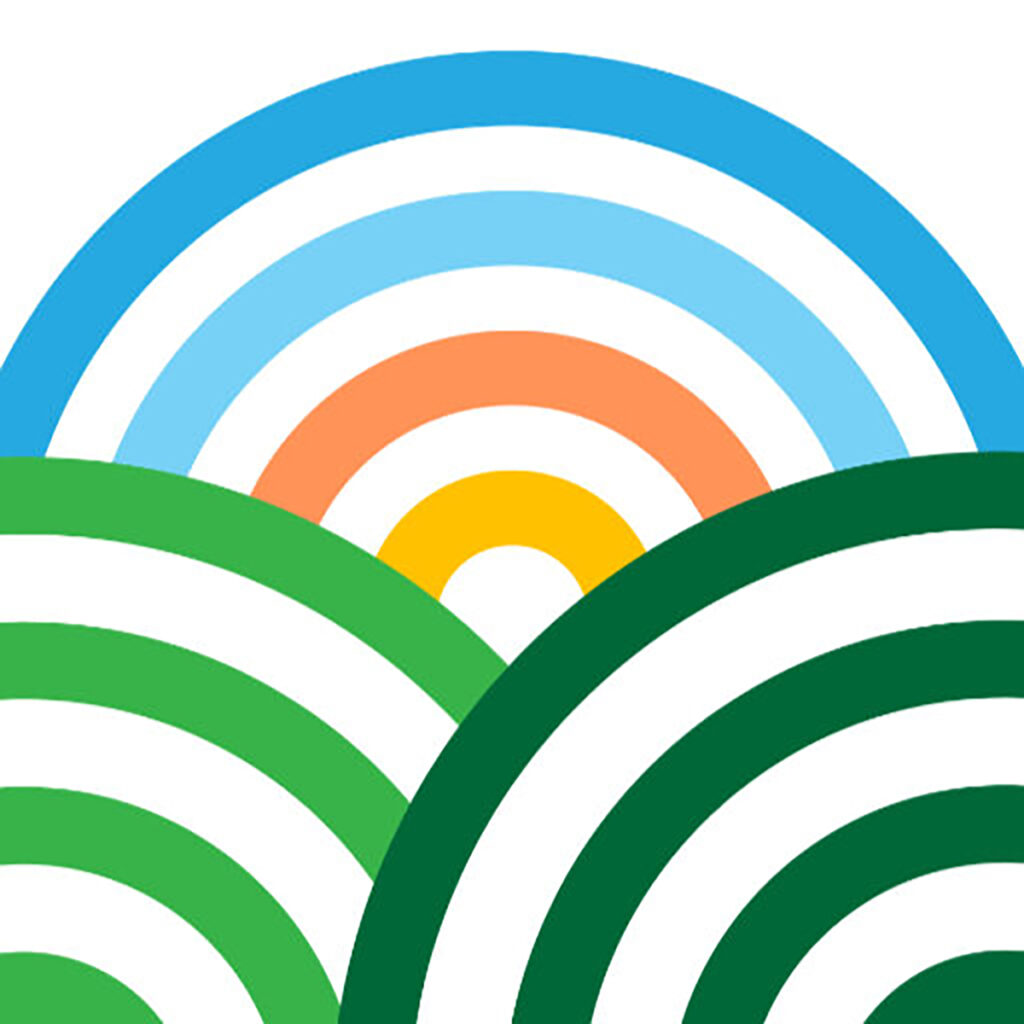 LATANYA MULLINS
Street Advocate
Latanya Mullins was born and raised in the Bayview Hunters Point community. Her past experiences being homeless gives her a lot of empathy for other people who are unhoused or going through a hard time.She loves to help people and connect them with resources that will help them become self-sufficient. She believes that it is very important to listen to a person and be there for them during their time of need, which is part of why she enjoys being a Street Advocate. Outside of work, she likes to have fun by going out to eat, shopping, and being around her family and friends.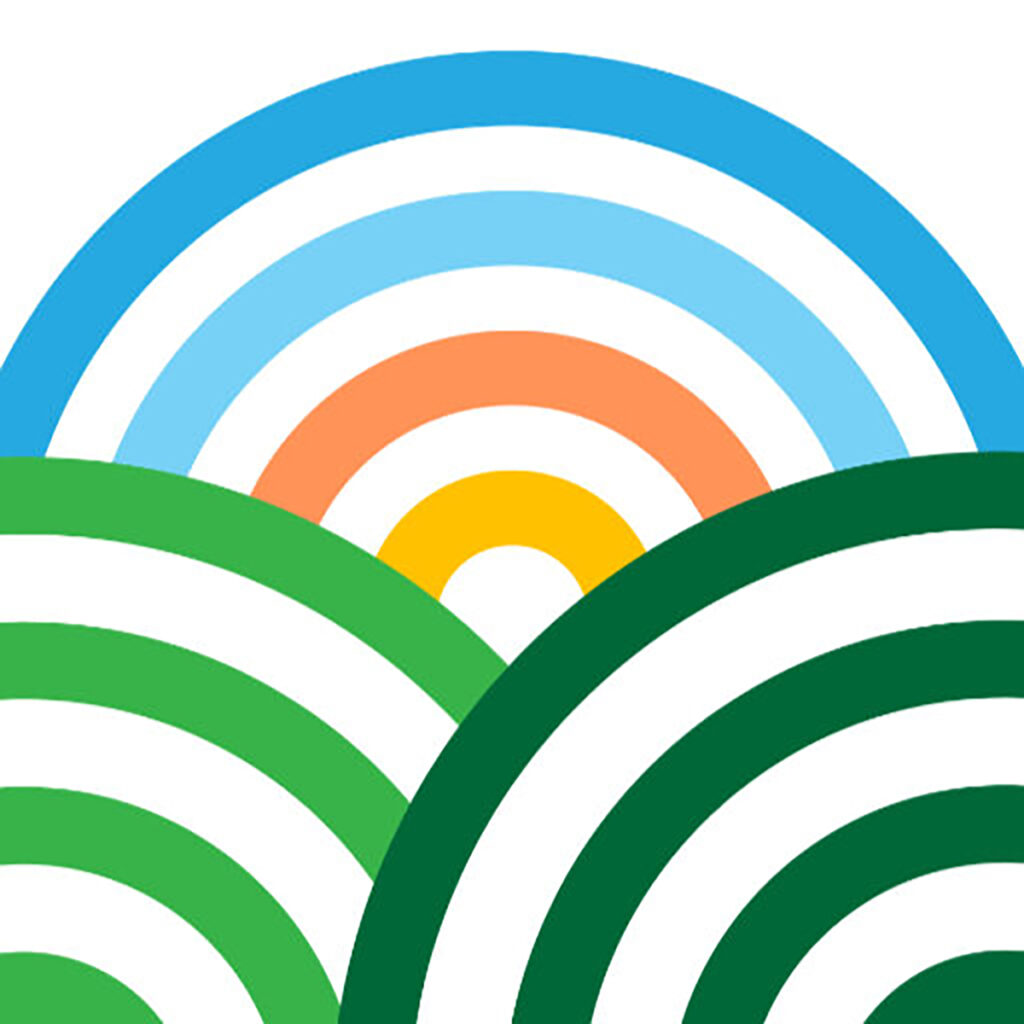 DALRIN LEWIS
AB617 Associate
Dalrin "Filmore" Lewis is from Hunters Point, and his decades of community experience help him connect to the people he works with out in the neighborhood. Before joining the Advocates, he worked for the Bayview Hunters Point Foundation Homeless Shelter, and for the SanFrancisco County Parks and Rec Department. He learned how to listen and approach people going through a hard time, a skill he uses every day now as a Street Advocate and AB617 Associate. He never has a boring moment on the job, but when he's not at work he likes to relax by watching movies, hanging out with friends and family, and laughing.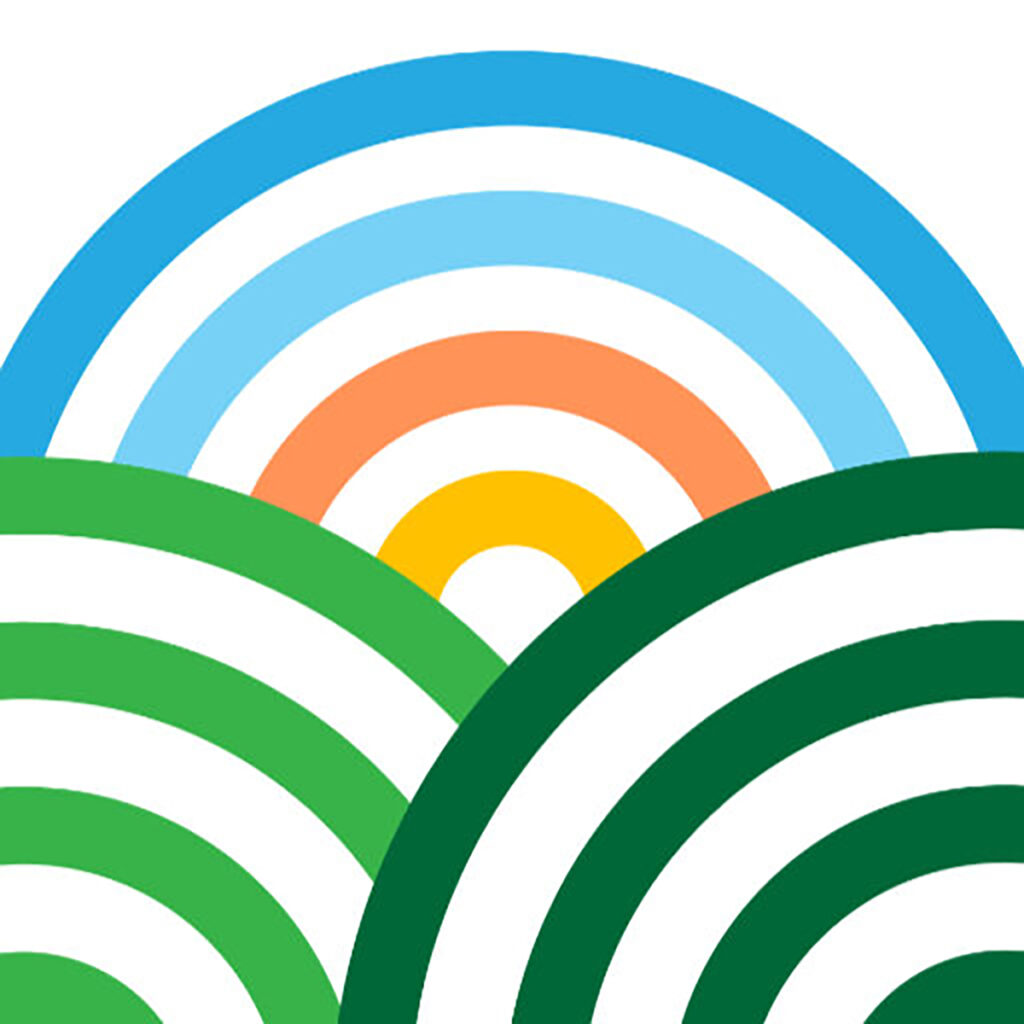 ANTHONY SONNIER
Street Advocate
Anthony Sonnier grew up in Bayview and Potrero Hill and has a long history of working to help his community. He used to coach basketball at a Hunters Point gym, and spent weekends working in a community garden his sister-in-law started. He still has a lot of family in the neighborhood. Prior to joining The Advocates, he was a peer counselor at A Woman's Place (which primarily serves survivors of domestic violence). There, he learned a lot about handling violence with humility and understanding. Additionally, he worked as a caregiver through IHSS, caring for elderly folks and people who had been partially paralyzed or badly injured. Like his work as a counselor, he enjoyed helping people feel loved and cared for during some of their hardest days. Now as a Street Advocate, he brings that same empathy when delivering food to unhoused neighbors; his previous experiences with homelessness are part of why he was drawn to this work. His favorite thing about this job (other than his coworkers) is helping people work through a difficult situation in their lives. He's very social, and after work loves hanging out with friends and family at BBQs, basketball games, movies, and (when he's not cooking himself) trying out different restaurants.